A Great Hair Stylist
Having a great hair stylist is pretty important. I had the same stylist for many years and when I moved to a new area, I dreaded the trial and error of finding a new person.  In 5 years, I never found a stylist that really worked for me and it actually caused me a lot of stress.  I recently relocated and was able to reunite with Aaron, the stylist God, and I felt a flood of relief and happiness the first time I was sitting in that red leather chair of his.  Why?  He knows my hair and knows what it can and can't do.  When I make a bad choice, he helps me figure out how to fix it.  He tells me I am beautiful.  He knows my history.  He sees potential when I don't and knows exactly when to push me to try something different.  He is also kind and I feel comfortable around him.  He is knowledgeable and stays current on trends and techniques.  But he also accepts me for who I am and doesn't expect me to be someone I am not.  It's a fantastic connection!
Person Centered Thinking
This important hair connection is a lot like how the concepts and tools of Person Centered Thinking are pretty important in the work we do.  Person Centered Thinking and planning is a discovery process used to search out what is truly important to people and for people as well as what capacities and dreams someone has.  Person Centered Thinking is a mindset that guides the way we provide support to people.  Person Centered Planning is an array of tools and concepts used to gather information about people.  Person Centered Thinking originates from the person's perspective but values a 360 degree snapshot as well.  At its' core is radical optimism; focusing on what is possible and using resources to contribute to meaningful lives for people.  This is what I find most inspiring and at the same time challenging.  Our industry systems and habits tend to focus first on deficits and barriers but Person Centered Thinking reminds us to "point positive".
Point Positive
I first heard the term Point Positive recently at the Northern California Gathering on Person Centered Practices.  At lunch I was chatting with a woman who has a son with an intellectual disability.  He will soon be moving into his own place and they are currently shopping for an SLS agency in the greater Sacramento area.  When she learned I was a service provider, she began asking a lot of questions about how we help people plan for their future.  She said she has been hard pressed to find an agency who "points positive".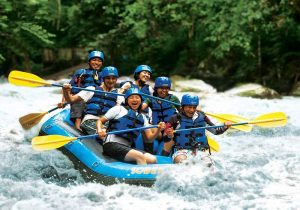 She explained that she was an avid river rafter and the term is used by guides to point you in the right direction.  Guides never point negative.  For example, they would never point to a rock in the river and say, "Watch out for that rock!" because you might not be able to hear them and interpret their pointing as where you should go.  The rule on the river is to always point positive, which means point in the direction you want the person or team to go.  This really resonated as one of the core principles of Person Centered Services.
Sharpening Our Skills
Options has been honoring these concepts since its' beginning but recently has been sharpening our skills through additional training and collaboration.  Options managers have attended related workshops and have been incorporating the language and concepts into our daily work.  Options has a certified Person Centered Thinking Skills Trainer.  Even though Person Centered Thinking and Planning have been around for a long time, there is a new buzz around the concept as a result of the Home and Community-Based Service  (HCBS) regulations that will go into effect in 2022.  These regulations specifically require the use of person-centered support plans.  I think this official requirement indicates a shift that has been in process for a while and is the regulatory attempt to point positive.  Compass is already in compliance with the new HCBS "final rule" but we are re-energizing our commitment to the concepts of Person Centered Thinking and looking to see where we can be even better.  We look forward to pointing positive together!